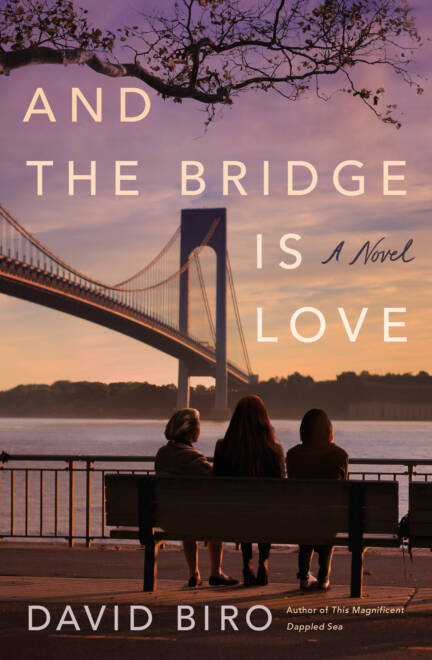 Three friends, two secrets, one love―and the journey of a lifetime.
Every week for twenty years, three friends meet in a leafy enclosure under the Verrazzano Bridge: Gertie, a feisty Norwegian divorcée and former athlete; Maria, a family-obsessed Italian American widow; and Corinna, a book-loving, hash-smoking eccentric. Together they sit and watch the sea as the ships―and the last years of their lives―sail by. On the eve of Gertie's eightieth birthday, they realize that time is running out. Gertie decides she wants to travel the world. Maria secretly plots to reunite Gertie and Corinna with their estranged families. And Corinna falls in love.
As the three women strike out in different directions, a series of events unfolds that threatens to destroy the most precious thing of all: their friendship. Heartfelt and humorous, And the Bridge Is Love invites readers to travel alongside these dynamic women in this inspiring novel about love, family, and forgiveness.
Pre-order Now
"An unhurried evaluation of the importance of companionship and friendship at any age."
―Kirkus Reviews
"David Biro's And The Bridge Is Love is a love story. A love story of three Brooklyn women―each with her own disappointments and dreams―who cleave to one another as the decades pass by and ultimately give each other the strength to take one last shot at life. Filled with love and hope, this book is for anyone who has ever had an enduring friendship―and anyone who dares to believe that the next best thing is just around the corner.
―Adriana Trigiani, New York Times bestselling author of The Good Left Undone
"What marks David Biro as a fine writer is his warmth, his emotional accuracy, and his ability to let his characters catch us by surprise―and these talents are all happily at work in his moving new novel And the Bridge Is Love."
―Matthew Kneale, Booker Prize–shortlisted author of English Passengers
"In And The Bridge Is Love, David Biro deftly draws personalities and places, he invigorates the present and the past. Through his lovely and uniquely crafted characters, he convincingly connects regret to hope, inertia to growth, and evil to love. The highest compliment you can pay a novel is that nothing in it feels made up. That's how Biro's beautiful new book unfolds."
―Andy Abramowitz, author of A Beginner's Guide to Free Fall and Darling at the Campsite
"I loved David Biro's emotional and moving novel, AND THE BRIDGE IS LOVE, which is the heartfelt story of three older women – Gertie, Maria, and Corinna – who have been friends for decades. But when one of them learns a long-hidden secret, everything changes. This novel resonates with friendship, love, and the power of forgiveness. If you haven't read Biro before, start now!"
― Lisa Scottoline, New York Times bestselling author